4 Step Single Girl's Guide To Finding Your Soulmate!
Are you single looking for love? Are you finding love after a heartbreak? Are you looking to find love? Have you done prayer to find love? Looking for love after a divorce? Want me to help you find love again? Ready to make those prayers about finding love come true?
Then, let me share some tips that will help you attract a soulmate into your life. You may feel like there is no hope for you in love If you've recovered from a heartbreak or seen others get caught in the cross fire of love.
Soulmate Vs Toxic Mate
I'm here to tell you: Love isn't a theory or a myth, it is really real. But, we often date people that we have nothing in common with because the relationship is based on filling our empty love tank. I believe a soul mate is a partner that we CHOOSE from a place of empowerment. I also don't think a soulmate is an etherial concept… A soulmate is simply a person that is a healthy match for our soul. They're not perfect, but they take the time to know us and love us.
When we choose a partner from a healed place that person tends to be growth minded, and a compatible match to our personality and lifestyle. Unlike a toxic mate that doesn't change and is usually our perfect trauma match! For example, I would date men that didn't feel worthy and were very negative. I would bring sunshine to their lives and make them feel worthy; the relationships foundation was codependence, lack of boundaries, enabling victim mentality, and people-pleasing. Unfortunately, I didn't SEE that I was choosing unhealthy men for a reason until I healed.
You can't spot REAL LOVE if you don't know what it is. You will only understand REAL LOVE when you learn to really LOVE yourself. And you can avoid heartbreaks and distractions by learning the difference between Mr. Right and the Mr. Wrongs, Mr. Cheaters, and Mr. Abusers.
6 Steps To Identify What You Want
1. You have to believe that God will bring your soulmate at the right time. You must have faith that God wants to bless you with a partner that complements you (is the strength to your weakness). A partner that tries to understand you and love you. A partner that is caring and will be there for you as you grow older and closer to God.
2. Write a Husband List! Then, you have to decide what type of man YOU want in your life. Write a list of the perfect attributes of your soulmate. When you write it down, then pray for God to release your hopes and desires to you in His timing!
3. Third, evaluate.… Do you have those attributes? Can you grow in those areas? Be real. Do you have what you are asking for?
4. Start to prepare your life to receive that man. If he's confident, he will want a confident woman as well. If he's handsome, he will want a woman that believes she is beautiful as well.
5. HEAL. Get all the healing you can so you can SPOT the right man and attract love not pain. Also, get healed up so the right man will be ATTRACTED to you.
6. Once you are done healing, you may have to revise your list. Why? Because, you may be asking for things from fears, insecurities, and trauma. As you get more healed and closer to God, you will ask for things that are God's best and what you need!
Is desiring a soulmate a sin? No. Entitlement, pride, satanic rituals, and greed are a sin. However, if you are asking God to bless you and you are not using it on selfish desires… And, you wouldn't walk away from God if he didn't bless you… Why wouldn't God bless you? He wants to give us the pure desires of our heart. "Take delight in the LORD, and he will give you the desires of your heart." Psalm 37:4
I prepared this website knowing that God would bring YOU and the right people here to help them. And, where are you? You are HERE! I had to take the steps to prepare and then let God bring the rest. I also had to let go and LET GOD. The key to healthy preparation is TRUSTING that our higher power (Jesus Christ) will give us the desires of our heart if we put in the work and it's according to His will.
Would you allow me to take you on the journey to being a woman that believes in love and knows how to spot their soul mate? If so, I've listed a few sources to help you on your journey.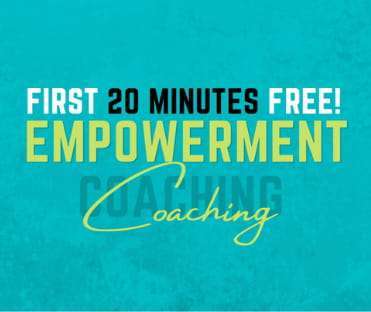 If you want help creating a strategy to manifest love into your life… You can sign up for your First 20 Minutes Free: 1:1 Empowerment Coaching!
4 Steps To Finding Your True Love
1.

Steps To Evaluate Your Current Relationship Patterns
The first step to finding real love is learning the necessary skills to "find" and "keep" true love. In the articles below, I list the four core things you can do to attract the right men. I also included a quiz that will help you see which area you are the weakest in and how it affects your relationships with men. Use the results to identify why you are dating the wrong men and what is the main thing you can work on to find Mr. Right.
2.

How To Avoid Unhealthy Relationship Patterns
The second step in manifesting real love is learning the difference between "healthy" and "unhealthy" relationships. When I started this journey, I was dating unhealthy men because I was unhealthy. I felt like I was perfect, lol… But, I was passive, insecure, and an enabler. Read the following articles to help identify the dysfunctional behaviors you and the men you date have.
What patterns keep you from having GREAT relationships?
Quiz: Are you codependent?
Ultimately, you have to WAIT for the right person and not rush into dating the wrong person.
3.

How To Become The Best You
Recognizing your unhealthy patterns and fixing them is the HARDEST part of the journey. You are more likely to spot and avoid unhealthy men if you are healthy. Now, that you have done the work of healing and growing… It's time to take the next third step in the process – Rebuilding yourself. It's time to give yourself the love that you need to become the BEST possible YOU!
4. 7 Valuable Steps To Take When You're Ready for Love

You know your unhealthy patterns. You know why you have been dating unhealthy men. You have been working on building up your self-esteem. Now, it's time to learn how to protect your beautiful heart. While your exploring the world people may try to hurt you… But, I want to teach you skills to avoid those type of people. I also want to give you tips to avoid hurting the one's you love.