As a prophetic dreamer, I believe dreams interpreted with Christian principles show us things about ourselves, others, God, and the world. If we take the time to pray and understand our dreams it can bring a lot of healing, clarity, and direction in life. However, interpreting dreams is not an easy task… To fully understand dreams you must fully understand yourself and God – which is an endless journey. But it is a fun journey!
The purpose of dreams are to draw us closer to God. Dreams show us how to remove things that keep us away from God. They also show us what we need or where to go. Ultimately, God wants us to be happy and full of trust and faith. He wants YOU to know that He's got YOUR back… And you DON'T have to worry about anything even in hard times.
Learning how to interpret your own dreams biblically isn't hard and can be expedited if you get the proper counsel on your journey. I would love to help you in the process as well, you can click here to share your dream (or a prayer request). I will try my best, but remember that God wants YOU to grow in intimacy with him… So, sometimes you'll have to pray and wait for him to reveal the interpretation.
Related Article: Am I Hearing God's Voice? 4 Biblical Secrets To Ensure You Are!
7 Types of Prophetic Dreams from God:
Please remember that dreams in the Bible always had a purpose from God while you are categorizing the types of dreams you are having. They were never selfish nor for pure personal gain. Here are stories where God has spoken to people in dreams expressed in Bible verses: 21 Dreams In the Bible and What They Mean!
1. Warning Dreams
Warning dreams tell us things that are going to happen to us or others. God wants to give us direction to intercede for his will in the situation. So pray against accidents, disease, witchcraft, death and whatever negative things pop up in your warning dreams. I have had warning dreams which helped me to know that certain people didn't have good intentions towards me. And dreams showing me that impure pieces of my heart would have caused me to sin. Click here for more examples of warning dreams I have had. These dreams can also help us or others avoid sin, struggles, and temptations.
2. Divine Revelation Dreams
Sometimes dreams are trying to show you emotions that have gone unnoticed or that you've ignored. Often times, we don't slow down to really understand how bad we feel and we forget to submit the pain to God for healing. For instance, I might dream of ex-boyfriends, anger, and fear of dying. Or, I might dream of losing things or not getting hired. If I feel highly emotional in the dreams it may be showing me what is happening inside my heart. These dreams happen so we can seek mentorship and pray for God to heal our hearts from the pain, fear, and disappointments that have hurt us.
Also, recurring dreams fall into this category. In 2013, I unintentionally did something that I was deeply ashamed about and it caused pain between me and friend. I have been dreaming I'd make that same interaction within all my relationships. It is in 2021 that I realized I was AFRAID of doing the same hurtful thing again.
Ultimately, God cares about the condition of our heart and character. God helps me to see impure pieces of myself in dreams. He points out bad habits and bad thought processes in my dreams, so that I can correct them and become more holy. The more I accept holy discipline and His rebukes it allows me to hear God more clearly. Why? Because when we filter God's word and voice through pain and a defiled heart we tend to twist His words to fit our own agenda.
3. Instructive Dreams
Sometimes God will tell us to do something in a dream. In this dream (click here), God was telling me to be more vulnerable in a situation. God wanted me to trust him that everything would be okay. Also, I've had dreams that showed me it was God's will for me to take certain jobs I would have overlooked due to pride. I remember my first job, they lowered my hours and pay to part-time. I was furious. In a dream, God said: "Your hours will allow you time for kingdom business." So, I never bothered to argue my way into more hours.
Also, when creating this website I was being a little slow. A friend dreamt of me working on this site and I never even told her! I was encouraged, but still hesitant… Then I kept having dreams where people were waiting on the advice I had to give. I knew this was a prompting from God to get to work! And here we are!
4. Spiritual Warfare Dreams
Spiritual warfare dreams are a call to prayer. God may show you something about yourself or someone else. For instance, I had dreams where a witch was praying over a territory I was having a church retreat. And another time, I had a dream a friend was very angry with me about something. I asked her and she confirmed it. I was able to continue praying for the situation. We don't always need to tell others about these dreams because they might not feel comfortable with you knowing such personal details or what spirits are near. I'm still learning when to share and when to just pray on it.
Here is a list of Spiritual Warfare Dreams that I've had. I also share 75  Prayer Points to help you Destroy Evil Spirits!
5. Encouragement Dreams
Some dreams might show you something amazing about yourself or someone. God wants us to be confident that we were created in His beautiful image and that we are sons and daughters of the King of Kings. These type of dreams might also show you something great that will happen in your distant future... Write it down and ask God to show you in different ways if that's His will for your life. For example, I started this website and didn't tell my friends. Then, a friend had a dream I created this website and it impacted many people. It confirmed that God wanted me to create Adorned Heart.
6. Demonic Dreams
Only God can allow the enemy to manifest in your dreams. Demonic warfare dreams may be God showing you how an evil spirit is attacking you in the spiritual realm. If I have a bad dream, I use that as a tool to pray. Example: If there is a sexual desires or dark presence in my dream, I know that God wants to protect me from that so I pray against it. But, don't be scared of terrifying dreams because you are a conquerer in Christ that can trample over powers and principalities of darkness. Usually, when I take more spiritual authority in the natural world, my dreams will start showing that I'm running faster than the enemy or stopping a spiritual attack.
7. Confirmation Dreams
When you feel lost or like you're not sure what path to take God will send a confirmation dream. Sometimes these dreams are just trying to tell you that you are at the right place at the right time, a reminder that God is real & you HEAR him. I had a dream about a guy named John Winthrop. Then a year later, I was teaching my American History class that name. I didn't remember the dream and I had a deja vu moment. Then, I realized that I had the dream. The dream was an encouragement to continue on my path of obeying God and waiting for some promises to manifest in my life. The truth is, sometimes life feels boring and stagnant as we wait for God to manifest in different ways. The enemy would like to tempt you and make you stray from the narrow path of righteousness. Confirmation dreams are little kisses from God reminding us that we should keep going and we will eventually win, if we keep running the race.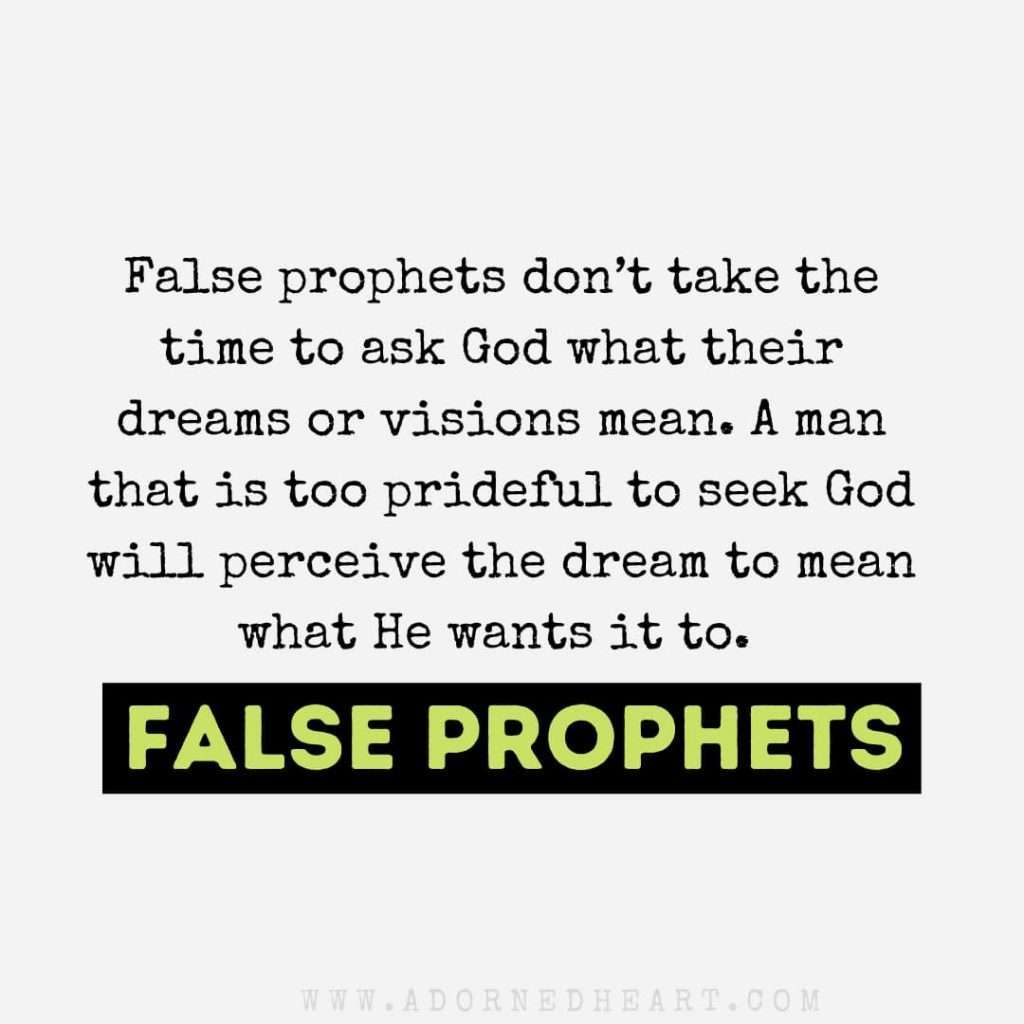 What is Christian Dream Interpretation?
Christian dream interpretation is the act of using biblical sources and revelations to understand a message from God. Learning more about God, the Bible, yourself, and how the world works will allow you to be a powerful dream interpreter. Remember, God is always speaking and wants His sheep to hear and follow his voice.
False prophets are usually individuals that don't take the time to ask God what their dreams or visions mean. A man that is too prideful to seek God will perceive the dream to mean what He wants it to. Therefore, they can lead others astray with their own selfish ambition and impure motives if they don't submit to God's wisdom.
The ability to dream and interpret dreams are a gift from God. Remember, biblical interpretation 

is NOT a sin

 because it is a part of the prophetic ministry that God poured out on ALL of His children through the Holy Spirit.  Acts 2:17: "In the last days, God says, I will pour out my Spirit on all people; your sons and daughters will prophesy, your young men will see visions, your old men will dream dreams." Seeking deeper meaning and divine revelation will help you understand messages from God, God's voice, the Holy Bible, and the love of Christ for the body of Christ. 
Related Article: 4 Biblical Secrets To Discern The Voice Of God!
6 Easy Steps to Understand Your Dreams
Write down the dream
Have faith that you will understand God
Write your initial interpretation of the dream
Pray about the dream
Talk to a mentor about the dream
Wait for the meaning
Remember, the dream could mean something later. I voice record my dreams as soon as I wake up. Or, sometimes I write it down. I like voice recording better because I describe things that are fresh on my memory as I wake up. But do as you please. If you write it or record it, make sure you take note of every detail:
How did you feel?
How did any other people feel?
What stood out the most to you?
What is the importance of the items and symbols in the dream to you?
Where did the dream take place?Was the area well lit or dark?
What does the people and place in the dream represent to you?
Is the dream similar to an event happening in your life?
Is this a recurring dream? What's similar about it compared to others?
Ultimately, Be VERY detailed about everything in your dream. I believe that those who are faithful with little will be rewarded with much more dreams. The more faithful you are with writing down and praying about a couple of dreams… Means God can trust you with a lot of dream. I have dreams from 5 years ago that I recorded and they just came true. I'm glad I wrote them because I have so many that I wouldn't have remembered. Steward the little God gives you well my friend !!
Related Article: #1 Way Guides & Protects Us From Harm (10+ Bible Verses)
6 Steps to Get Better at Biblical Dream Interpretation
1. Wait for the meaning.
I'm not always sure what type of dream I had OR what the dream means. Honestly, sometimes I have dreams that scare me and I have to take it to God. OR, I have dreams that show me something I want and I misinterpret what God was saying. I've learned the key is writing down the dream. Then, I wait for God to reveal the meaning over time.
Learning to understand your dreams is a slow journey, but it can be fun. Some of my dreams from 6 years ago are just now coming true. Funny thing is… I thought some of those dreams meant something else 6 years ago. I've learned to be open to being completely WRONG… God is the only one that fully knows. Be patient and let him fully tell you.
2. God will speak to you in dreams based on your personality. Let's say that you are obsessed with jewelry. If you are dreaming about jewelry being everywhere and ignoring people around… God could be showing you that you're too focused on the wrong things in life. So symbols are most likely based on your own unique personality and feelings about the specific symbol. Furthermore, God will show you things that mean something to you… This helps him explain things in a way that only you may understand.
3. Look up name meanings and symbols. Symbols such as animals, places, people, and objects often represent certain things in our dreams. As I seek God to interpret, I often develop my own understanding of what reoccurring objects in my dreams mean. Something I often dream about is my car. I'll dream someone stole my car, or it won't stop, or it's driving smoothly, or someone else is driving it… etc. My car represent my life, my direction, and who is in control. In one of my dreams, I trusted God to drive it and it was sailing smoothly. And in one dream, I was following a GPS and driving my car in the sky. When I realized I was in the sky I fell… The dream was encouraging me to follow God's path and not doubt! You can read more of my personal symbol interpretations here.
Also, check out a generic biblical dream symbol guide to find out what the symbols in your dream means. When you're more confident with God speaking you won't really look to general symbols, but it is a good start for beginners. Why? Because there are general symbols such as seeing snakes, alligators, etc. which usually means you have some type of danger in your perimeter. But, remember God is developing a relationship with YOU, so the symbols can be unique to you and what God is telling you. So be careful to leave room for God to show you something else, after you look up the symbols you see in the dream.
In one of my dreams, a girl name Stephanie came and then a friend of mine received healing in His need for sex. So I looked up the name in the name meaning guide, and Stephanie means victory. I believe the dream was saying that God healed him and He was victorious in the lust department.
4. Dreams should not tell you to do something that goes against the Word of God. The Bible says do not murder, have sex outside of marriage, etc. If a dream is encouraging you to sin… That means you are understanding the dream incorrectly. Having a full understanding of the New Testament and Old Testament is key to understanding what God is trying to say in dreams. God's voice in dreams is ALWAYS holy and without sin, so make sure you are hearing correctly. In addition, when you interpret dreams correctly they should bring peace, healing, and greater understanding NOT confusion, fear, and pain.
If you don't feel peace, you are not fully understanding God's purpose for your dream correctly. "For God is not the author of confusion, but of peace..." 1 Corinthians 14:33 KJV God can correct you, warn you, and tell you a hard truth and you can still feel peace.
5. How do I know if I'm interpreting dreams correctly? Ask a biblically sound mentor or friend for their opinion. However, the meaning of the dream should feel right in your soul. You'll just know. Dreams can show you something important today… Then, show you even more important stuff that you didn't understand later. Just be open to learning, being wrong, and God revealing more. Sometimes, God will give you more dreams and the first dream won't make sense until you have had the fourth dream! I have had dreams where God explained other dreams within it.. Crazy huh? The journey isn't about becoming a great interpreter… The journey is about developing intimacy with God and learning how much He loves you. Be sure to fall in love with the dream giver and not the dream.
Related Article: 5 Reasons You Can't Be A Good Person Without Jesus!
Search me, God, and know my heart; test me and know my anxious thoughts. See if there is any offensive way in me, and lead me in the way everlasting. Psalm 139:23-24
6. Pride and an impure heart can cause you misinterpret a dream. You will need to submit to God, so that He can cleanse your heart. Sometimes, we think a dream means something incorrect because the condition of our heart is not healthy. Remember, that you could have a healthy heart today and tomorrow pride and pain creeps in. "The heart is deceitful above all things, and desperately wicked: who can know it?" Jeremiah 17:9 Purification of the heart is a daily activity. Check out the articles below to help you ensure you are not operating from an unclean heart. Related Quiz: Am I Struggling With Pride? OR Am I Carrying Emotional Baggage?
16 Common Christian Dream Symbols
When interpreting your dreams and night visions it important to have biblical references and use a personal reference point. A biblical reference is checking to see what that symbol means in the Bible. But, sometimes the symbol is based on your own personal experience with an object, place, or person. To be safe, I always evaluate both reference points. Check what the symbol means in the Bible and explore what that symbol means to you.
Feel free to use these common Christian symbols (list below) based on my journey and understanding of Christian dream symbols. But, please remember it may be different for you! Search around the Bible, advice articles, dream interpretation books, and learn your own dreams. This is a journey not something you'll figure out overnight!
Dream About My Future Husband: Many women believe that God revealed their husband through a dream. Sometimes, the dream is about emotions that are unhealed. If it's a dream about your emotions it will usually expose the exact fears and worries you have in real life. And sometimes you are right about it being your future husband. But, remember that God is not the author of confusion. However, you need to go through a process of testing the dream and seeking God to ensure you are discerning the dream correctly.
Dreams Of Others: Usually a dream about someone else is based on what they represent, an issue you may have with them, or something that may happen in the distant future.

Represent: For instance, I dreamt of my pastor giving me an encouraging words because He represents a trusted authority figure in my real life. The encouragement meant more coming from him.
An Issue: I dreamt a guy and I were house shopping and looking at the faulty structure of the buildings. It turns out, the dream was showing me that we were not equally yoked and didn't have same the ideas of foundational things.
Future Events: I had a dream about a guy and I having a disagreement in a grocery store. I thought this was in the future and we were dating. Long story short, the exact dream happened and we were with a group of friends at a restaurant. Dreams don't always happen exactly the way we expect. The grocery store in the dream may have meant he came to get spiritual nourishment (food) and when he didn't he got mad.

When someone gives you money in a dream: Could the dream be showing you the person giving you money is a blessing in your life? Or, this could mean favor or financial increase. Receiving money can represent increase in some area of your life, it doesn't have to mean actually getting cash.
Eating in a dream: Eating can represent what you are putting in your spirit. Usually good food indicates God's word. And, bad food represents unbiblical advice or vile and demonic influences in your spiritual life. Lack of food or scraps can indicate not enough biblical nourishment in your life. Someone stealing your food can represent the enemy trying to stop you from consuming more of God's word.
Dreams About Babies: Babies usually signal alot of responsibility to me. I usually dream of babies and how I will commit to taking care of them. The baby could represent a huge burden, commitment, or responsibly coming into your life such as marriage, job, creative projects, etc.
Dreams About Being Pregnant: Usually means something new is being birthed or created in your life.
Wedding dream: Usually reflect where you currently are emotionally and how ready you are for marriage. The dream will usually reveal how you feel or think about some aspect of marriage and a wedding. The feeling is usually what God wants to heal or address.
Dreams About God: When God shows up directly in your dream He wants to be very clear about a topic with you. Take VERY special notice to how you respond to him and how the dream made you feel. He wants to remove doubt, fear, and give you 100% faith.
Dreams about Fish: To me, fish represent people that God wants to save and bring into the Kingdom.
Barefoot dreams:

Jesus washed the feet of the disciples because their foot had touched the dirty world. Walking barefoot signals that you are in the world and experiencing darkness. It doesn't mean you are evil, just experiencing the evil and it's affecting you.
Being without shoes can also signal that you are vulnerable and/or you are unprepared for a journey.

Dreams About Alligators: Alligators are usually signaling a spiritual attack.
Weird Dreams: Usually when they dream is mixed up and incoherent, that may be a signal you are confused about something. Don't forget to write it down and evaluate it later.
End Time Dreams: Our dreams are a more accurate depiction of the spiritual realm than what we see when are awake. Sometimes, the dream isn't showing us the end of the earth or the last days. But, it is showing us the state of the current world. I have had dreams about people's hearts being wicked when everyone praised them as honorable people. Eventually, my dreams proved to be true when someone's impure heart was exposed.
Losing teeth: The spiritual meaning could indicate that you are not eating the meat (the Word of God) and your teeth are not strong or well nourished. Or, it could be tied to your fear of loosing something. Either way, to remove fear and have strong teeth you must read your bible more often!
Dreams about fruit: fruit reminds me of spiritual fruits of patience, goodness, love, self-control, etc. If it's a healthy fruit then it's in alignment with God. If the fruit is green it signals immaturity and rotten fruit signals evil.
Being Attacked In A Dream: The biblical meaning is you're experiencing demonic warfare. Did you feel helpless in the dream OR full of Christ authority? The dream is pointing out how you feel about a situation in your natural life and how you are responding to it. If you feel powerful, keep going! If you feel helpless, renew your mind from victim mentality and stand firm in your faith!

You are experiencing spiritual warfare if you dream you're being attacked by dogs, snakes, alligators, tigers, eagles, bear, buffalo, ghost, crocodiles, moose, and lions. Understanding the behavior of the of animals signals how the attack may be done. Snakes are sneaky. Ghosts are scary and unexpected. Eagles are from the top which could be someone in authority over you. Alligators, crocodiles, and lions are big and territorial. Dogs and tigers are fast and will wear you down physically and emotionally. Moose are herbivorous and don't eat meat, so it could indicate someone you least expect. Also, evaluate what you think about each animal. That may add an extra layer.
The enemy feeds on fear, so don't let your dreams scare you. Stand your spiritual ground with these 75 prayers and spiritual warfare directional points.
Related Article: Prophetic Dream Dictionary for Prophetic Dream Interpretation
If you're not a Christian and you're dreaming about Jesus, it's because He wants to help you start a personal relationship with him. Here are 3 Steps to Become a Christian! Starting a relationship with God is very beneficial and He has good news for you!
How to Avoid False Interpretations
Dream interpretation in Christianity is for the GLORY OF GOD, not the glory of man.
Understand The Gospel: Christianity is about accepting Jesus Christ and allowing him to purify us of our sins and brokenness. Brokenness and sin makes it hard for us to be close to God. Once we allow God to clean us up, we are able to go out into the dark world and bring other people into the Good News as well.
Be Selfless: Your only goal should be to bring God's kingdom to earth. If you are focused on your own glory, needs, and desires then you are at risk for interpreting prophetic download incorrectly.
Defeat Sin: God expects you to defeat the darkness that tries to tempt and ensnare you in sin.
Avoid Idolatry: Do not overly depend on people, symbol books, or anything that isn't God. God is the ultimate teacher. In a dream, I was going to bed with a friend's advice in my head and I was hugging the word idolatry tight. God was showing me that I trusted my friends advice more than God and the Bible.
Allow God To Search Your Heart: Each day we have the opportunity to do good or to sin. Allow God to heal you DAILY from roots of unforgiveness, shame, fear, etc.
Christian Dream Interpretation Books