Dear Beautiful Woman,
Thank you for seeking healing. This open letter is written for women that are healing after an emotionally abusive relationship.
You are strong and beautiful.  Thank you for refusing to let this world turn your heart dark and cynical. I'm sorry that he hurt you. I can feel your pain, as I'm imagining the type of woman you are.
Were you involved with a man you thought was perfect? Did he make you feel real love was possible? And did he make you feel you were the only woman in the world?  You may have experienced the type of love that they make movies about with him. Then, things just started getting bad really fast. You tried to defend your heart and/or actins, but he thought you were attacking him.  You tried to control it and make it better, but nothing would work.
Eventually, he withdrew his emotions and became a different person. When he emotionally checked out, did it feel like he left you and took your heart with him?  Were  you left trying to answer questions? Did I do something wrong? Did he ever love me? What If I did xyz better? Will he ever think of me again? Will he come back?
Related QUIZ: Why are you attracting the wrong men?
I'm sorry no one understands the pain and confusion that you feel. Time is slowly passing away: days, weeks, months or years…  And you don't know who to talk to! Your friends think you should suck it up and move on. But, how can you? How can you forget about the most amazing love story you have ever experienced? Or, how can you make the pain of what he did disappear? 
No one understands how you feel – your emotions are going back and forth at lightning speed. In one moment, you hate him for the pain he caused you… But, in the next moment you would give anything up to have him near you again. Sweetie, you're not crazy. You are a woman that loved. Don't ever regret having a beautiful heart, that cared deeply for him.
And, I'm sure He cared as much as he could about you. How could he not? You are absolutely amazing. You cared about him. You listened to all his pain and tried to give him the love that he never had. But, He was too broken to fully appreciate and respect you. He was dealing with his own inner demons and couldn't give you the love that you deserve. And sweetie, don't worry about whether he's happy with other women. He will never be truly happy because ONLY God can fix his broken heart.
Related Article: Why Don't People Change? 6 Ways To Manage Self-Hate & Abuse!
He isn't at the place right now to accept his flaws. He can't face it. Or, He'd have to admit to the monstrous things he has done. Not only to you, but the people around him. The pain he feels is too great for him to accept personal responsibility. Unfortunately, He will continue this cycle with other women, his friends, his family, and other people until he is ready to heal his toxic patterns.
He is not for you at the moment because you deserve to be loved greatly. Loved by someone that won't go back to their bad habits in a few days. Loved by someone that sees how AMAZING you are.
And, if you don't already know….
#1 You are irresistible and magnetic.
Did you know that you can make someone feel all the butterflies that he made you feel? In fact, He felt those butterflies at first too. Unfortunately, his pain eventually silenced the warmth you brought to his life. However, as you grow to see your attractive aura… You will attract the right man that will go crazy over your magnetic energy. 
Related Article: 88 Affirmations to Attract Unconditional Love
#2 Real love does exist.
What you experienced with him was just a taste of REAL love! If you learn to access love the right way it can last forever.
#3 You can protect yourself from emotionally unhealthy men.
Our toxic patterns attract toxic people into our lives. The key to healing starts with addressing the pain that caused you to allow them in your life.
I want to teach you how to heal from emotional abuse and the tools to SPOT mr. right and protect yourself from men that walk all over you. You deserve to be loved and experience true satisfaction.  I can help you remove the emotional scars when you sign up for your First 20 Minutes Free: 1:1 Empowerment Coaching!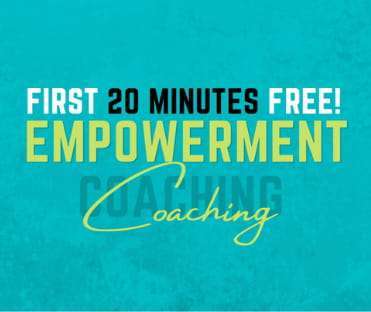 Also, please sign up for our mailing list below, or read more here: 5 Secrets To Feel Loved Daily!  I would like to continue to encourage you. I want to help you realize your inner power and release your magnetic energy. I can't wait, the world won't be able to resist you.