Fear is not normal for the Christian believer. If fear is taking over your life then you need to do something about it quickly. God wants us to live in peace, even when everything in our lives are going wrong.
The spirit of fear is a demonic minion that likes to hang around our pain. The demon whispers lies to us and causes negative situation to happen, which produce fear. To get rid of the spirit you must renew you mind and draw closer to God. Spirits can't stay when you know that there is no reason to fear. They can't stay when you realize that God will protect you from everything.
Are you tired of living in fear? Tired of allowing the spirit of fear to torment you? Then, I'm encouraging you to do something about it. My suggestion is to go on a 7 day prayer challenge to combat the spirit of fear stronghold. You can fast during this time but make sure you are engaging in healthy fasting.
During the challenge, focus on whatever area of your life FEAR is stopping you from being the POWERFUL woman that God has called you to be. Each day spend 5-10 minutes praying and ask God to remove fear from your life. 5-10 minutes is the minimum but spend as much time in the word and praying that you can.
However, you are spending more time to know God more… Not to make your prayers "stronger". Make sure you approach God to get to know him more, not for His power. Intimacy and knowing God's love for you is the key to overcoming root causes of the spirit of fear.
#1 God commanded us: Do not fear!
God commands us to walk in faith and "do not fear" in the Bible. "Fear not, for I am with you; be not dismayed, for I am your God; I will strengthen you, I will help you, I will uphold you with my righteous right hand." Isaiah 41:10
How many times does the bible say do not be afraid? It is written over 60 times, depending on the version it might be more. This is because God is serious about his command — we should not fear 365 days a year.
If God commands us "do not fear" then that means it is possible to live a FEAR free life.
#2 Fear is Not Normal!
It's time to renew your mind. So many of us, including myself, live life in constant fear of things to come, what people think, and following our passions. But, it's not normal to have fear. The truth is, fear is one of the strongest weapons that the enemy uses to keep us from being who God created us to be.
The Bible says: "Do not be anxious about anything, but in everything by prayer and supplication with thanksgiving let your requests be made known to God. And the peace of God, which surpasses all understanding, will guard your hearts and your minds in Christ Jesus." – Philippians 4:6-7
God doesn't break promises. So many of us have accepted defeat in the area of fear. However, we have to have FAITH that God doesn't lie nor change his mind. If he promised to give us peace in the Bible… Then, we must have the strength to patiently wait for the peace He promised us.
"Fear is a self imposed prison that will keep you from becoming what God intends for you to be. You must move against it with the weapons of faith and love." – Rick Warren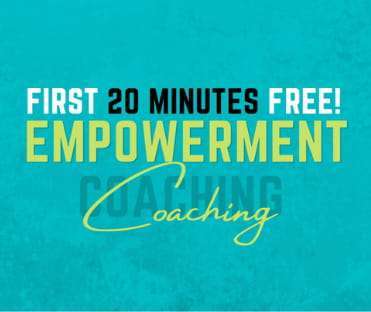 Related Article: #1 Way God Protects Us From Harm (13+ Scriptures)
What is causing you to fear? That is important to find out. If you need help figuring it out you can sign up for a free 20 minute spiritual empowerment coaching session with me!
#3 Fight fear with Faith!
Do you have faith that God will remove fear from your life? This Bible verse promises that God will help us overcome fear: "I sought the LORD, and he answered me; he delivered me from all my fears." Psalm 34:4
Our strongest weapon against fear is believing in the word of God. We must believe that God doesn't break His promises. The bible says, "And without faith it is impossible to please him, for whoever would draw near to God must believe that he exists and that he rewards those who seek him." — Hebrews 11:6
"Hope is being able to see that there is light despite all of the darkness." – Desmond Tutu
#4 God won't disappoint you.
God will not put to shame those that put their hope in him. He may not give us what we need in the way we expect, but he will provide what we need. He will take care of us.
Here are four powerful bible stories of how faith can overpower your fear:
Paul in the prison cell: Paul was locked up for preaching the Gospel and God made an earthquake crack open the prison cell. Paul was able to leave safely.
The multiplication of fish: A large group of people were following God and they grew hungry. But, there were only 7 fish and 7 loaves of bread. God supernaturally multiple the food and He fed them. This story shows that if we focus on God he will supply our needs.
Sarah's pregnancy: Sarah and her husband Abraham were past childbearing age. But, God opened her womb and helped her have a son.
Lazarus: Lazarus died and Jesus rose him up from the dead.
Related Article: Want Victory In Jesus? 7 Tips based on Bible Verses!
#5 God's timing is perfect.
"The Lord is not slow to fulfill his promise as some count slowness, but is patient toward you, not wishing that any should perish, but that all should reach repentance." 2 Peter 3:9
It's never too late for God to act. God is capable of doing the impossible! He can bring the dead back to life. "Jesus called in a loud voice, "Lazarus, come out!" The dead man came out, his hands and feet wrapped with strips of linen, and a cloth around his face." — John 11:43-44
While you are are waiting on God to help you overcome: "Delight yourself in the Lord, and he will give you the desires of your heart." Psalms 37:4
#6 Stand firm in your identity!
You are a child of God. Children trust that their parents and strong and can do anything. They believe their parents will take care of the things they can't. Do you believe you have a powerful father in heaven that will protect you? Do you believe you can overcome the spirit of fear? The enemy wants you to believe that you have to protect yourself and if you can't do anything — your situation will be hopeless.
The enemy wants you to live in fear and to constantly fight to safe. But you can't focus on what's going wrong in your life, you must "walk by faith and not by sight or [emotions]." 2 Corinthians 5:7
I have learned that God commanded us "do not fear." That means my father in heaven is serious about giving me peace. That makes me happy that he wants me to feel good even when everything is going wrong around me. I was reminded that I need to read the Bible to increase my faith and to fight against fear since it isn't normal to live in fear of tomorrow.
Related Article: 7 Tips to Pray for Victory Over Enemies!
Your father hears your prayers. Here are bible verses that prove he hears and you shouldn't fear: "Keep on asking, and you will receive what you ask for. Keep on seeking, and you will find. Keep on knocking, and the door will be opened to you. For everyone who asks, receives. Everyone who seeks, finds. And to everyone who knocks, the door will be opened. "You parents—if your children ask for a loaf of bread, do you give them a stone instead? If they ask for a fish, do you give them a snake? Of course not! So if you sinful people know how to give good gifts to your children, how much more will your heavenly Father give good gifts to those who ask him." – Matthew 7:7-11